Who exactly are the factions of the Turkish-backed 'Syrian National Army' (SNA)? Which of those factions are the most important in the SNA? These questions are important to consider in light of the deluge of polemics about the SNA on account of the campaign that Turkey and the SNA have waged against the Kurdish-led Syrian Democratic Forces (SDF). As I have emphasised before, it is important to document the SNA and its factions in an objective manner to enable better public understanding.
Previous descriptions of the SNA have tended to list the names of factions that operate under its banner but without giving real detail on the SNA's structure or accounting for the different sizes and levels of influence of the factions. See, for example, this analysis from the Turkish think-tank SETA, which gives a list of 41 factions that purportedly operate under the SNA.
For this outline of the SNA's structure, I detail the components of the original three legions/corps (Arabic: fayaliq) of the SNA. Officially speaking, there are now supposed to be seven legions of the SNA following the merger of the 'National Front for Liberation' (NFL)- a collection of non-jihadist factions in Idlib and its environs- into the SNA. However, on the ground, the NFL continues to function as though it were independent of the SNA, and thus there is no concrete information yet on the organisation of the NFL factions in the four new supposed legions.
By contrast, the factions in the original three legions of the SNA coordinate closely with the Turkish armed forces and are properly organised as brigades within divisions of each of the three legions. It is those groups that constitute the Syrian fighting force against the SDF within the 'Peace Spring' Operations.
I note the following observations with regard to the structure of the SNA I document below:
. None of the factions here can be characterised as 'jihadist', contrary to the claims of the SDF and its supporters. All of these factions operate within a Syrian national framework. For more on this wider issue, see my translation and analysis of the SNA's 'code of conduct'.
. There is a tendency for disproportionate media focus on Ahrar al-Sharqiya, even though it only constitutes one brigade in the SNA.
. If we judge by number of affiliate brigades, the most important SNA factions are (in no particular order):
- Shami Front
- Jaysh al-Islam
- Sultan Murad Division
- Faylaq al-Rahman
- al-Hamza Division
- al-Mu'atasim Division
. The factions as a whole are of diverse origins and memberships. Some reflect origins from distinct areas, For example, Ahrar al-Sharqiya and Jaysh al-Sharqiya, as their names suggest, have origins in eastern Syria. Jaysh al-Islam and Faylaq al-Rahman are familiar to observers as being the two main rebel groups in East Ghouta prior to the Syrian government's recapture of the area in 2018. Some factions are long-standing names in the Syrian insurgency (e.g. the Shami Front and the Sultan Murad Division of Aleppo province), while others like Division 20 are newer creations. Note also that older factions have newer recruits as well, including people displaced from other parts of Syria.
. Some of these factions received Western support in the past (e.g. Shami Front and al-Hamza Division), others did not.
. Finally, a cautionary note on numbering of divisions. If you take Division 34 of the Third Legion as an example, you may see references to it elsewhere the 'fourth division': the meaning being that it is the fourth division within the Third Legion, and not Division 4 within the SNA as a whole.
Below is the structure of the SNA. Any comments and suggestions most welcome. Please ask for permission and give appropriate credit for reprints etc.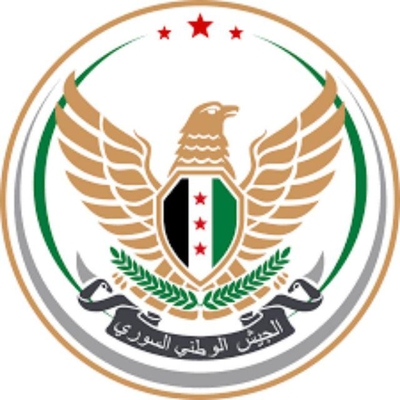 First Legion
Division 11
Brigade 111: Liwa al-Shamal (cf. here)
Brigade 112: Jaysh al-Ahfad (cf. here for some background on Jaysh al-Ahfad, and here on Brigade 112 and Division 11).
Brigade 113: Jaysh al-Ahfad
Division 12
Brigade 121: Liwa Samarkand
Brigade 122: Liwa al-Muntasir Billah
Brigade 123: Tajammu' Ahrar al-Sharqiya
Division 13
Brigade 131: Liwa al-Sultan Muhammad al-Fatih
Brigade 132: Ghazal base
Brigade 133: Liwa al-Waqqas
Division 14
Brigade 141: Faylaq al-Sham (north Aleppo contingent)
Brigade 142: Liwa al-Sultan Suleiman Shah
Brigade 143: Ninth Division
Brigade 144: Division 20
Brigade 145: Jaysh al-Nukhba
Brigade 146: Jaysh al-Sharqiya
[Update 11 April 2020: there is now supposedly a Division 15 including Brigades 123, 144 and 146. Meanwhile, Brigade 145 is supposedly moved to Division 12, Brigade 122 to Division 13 and Brigade 113 to Division 14. H/T Alexander McKeever who inquired with me about this matter based on an allegedly leaked First Legion document. One should compare with some 'martyrdom' announcements posted in January 2020 that mention Brigades 123 and 144 as part of a 'Division 15'].
[Update 1 May 2020: though there are doubts that can be raised as to how far the reordering suggested by the alleged leaked document has really been applied. For example, in its official media, Brigade 146 still describes itself as part of Division 14 in this 'martyrdom' announcement for one of its fighters dated 28 April 2020].
[Update 4 November 2020: further cementing the idea that the Division 15 was only a temporary thing at most, a 'martyrdom' announcement for Brigade 144 this month describes it as part of Division 14].
[Update 21 May 2021: Liwa al-Sultan Suleiman Shah, which now describes itself as a division instead of a brigade, announced on 1 April 2021 that it had left the First Legion. It currently identifies as part of the Second Legion].
[Update 28 May 2021: The al-Sultan Muhammad al-Fatih Division, Liwa Samarkand and Liwa al-Waqqas issued a statement announcing a merger as the 13th Division of the Syrian National Army].
Second Legion
Division 21: Sultan Murad Division (cf. Twitter account of the group describing itself as the 'first division' of the Second Legion).
Brigade 211 (cf. here)
Brigade 212
Brigade 213
Division 22: al-Hamza Division (cf. statements and social media output of al-Hamza Division under the label of the 'second division' of the Second Legion).
Brigade 221
Brigade 222
Brigade 223
Division 23: al-Mu'atasim Division (cf. social media output of al-Mu'atasim Division under the label of the 'third division' of the Second Legion).
Brigade 231
Brigade 232
Brigade 233: Men of War Brigade
Division 24: Sultan Murad Division
Brigade 241
Brigade 242 (cf. here)
Brigade 243
Division 25: Jaysh al-Islam
Brigade 251
Brigade 252
Brigade 253
Brigade 254
Brigade 255
Brigade 256
Brigade 257 (cf. here)
Division 26: Faylaq al-Rahman
Brigade 261
Brigade 262
Brigade 263
Division 27: Sultan Malek Shah Division (formed in August 2020, apparently by former members of the Sultan Murad Division).
Brigade 271
Brigade 272
Brigade 273 (cf. here)
Third Legion
Division 31
Brigade 311: Northern Storm Brigade
Brigade 312: Ahrar Mennagh
Brigade 313: Emergency Force
(NB: these are Shami Front affiliates).
Division 32
Brigade 320
Brigade 321
Brigade 322
Brigade 323
(NB: these brigades constitute battalions that were part of Ahrar al-Sham and Suqur al-Sham in north Aleppo countryside and merged into the Shami Front. They maintain no real organisational link with Ahrar al-Sham or Suqur al-Sham in Idlib and its environs).
Division 33
Brigade 331: factions of Mare'a. Liwa Fursan al-Shamal.
Brigade 332: Force 55 of Tel Ref'at
Brigade 333: group of factions including Liwa Jund al-Islam, Suyuf al-Sham, Sajidun and Liwa al-Fatah.
(NB: these factions are tied to the Shami Front).
Division 34
Brigade 341: Division 51
Brigade 342: Fawj al-Mustafa (cf. here on Third Legion affiliation) and al-Fawj al-Awal
Brigade 343: Liwa al-Sultan Osman and Thuwar al-Jazeera
Brigade 344: Liwa al-Salam (cf. here), Division 23 (cf. here on connection to Third Legion) and Tajammu' Fastaqim Kama Umirta.
(NB: Faylaq al-Majd operating within Division 34 but no assigned brigade number known yet).
[Update August 2020: Division 23 of Brigade 344 dissolved].