In the northwest Syrian province of Idlib a number of institutes exist for the teaching of 'Shari'i sciences.' These institutes promote their activities via the social media application Telegram. One example of this is the Imam al-Shafi'i Institute (named for Imam al-Shafi'i, considered the founder of the Shafi'i school of jurisprudence in Sunni Islam).
For example, in recent times the institute posted the following announcement via Telegram: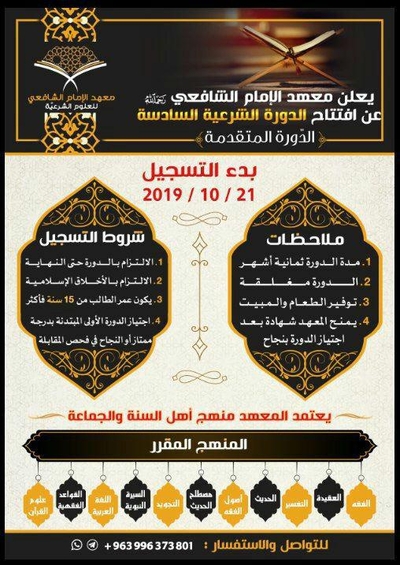 "The Institute of Imam al-Shafi'i (may God have mercy on him) announces the opening of the sixth Shari'i course (the advanced course).
Registration begins on 21 October 2019.
Notes:
1. The course lasts 8 months.
2. The course is indoors.
3. Food and lodging provided.
4. The institute grants a certificate after successfully passing the course.
Registration conditions:
1. Complying with the course until the end.
2. Complying with Islamic ethics.
3. The student's age should be 15 and above.
4. Passing the first preliminary course with an excellent grade or success in the interview examination.
The institute adopts the manhaj of the Ahl al-Sunna wa al-Jama'a
The manhaj course:
- Fiqh
- 'Aqeeda
- Tafsir
- Hadith
- Principles of fiqh
- Hadith terminology
- Prophet's life
- Arabic language
- Foundations of fiqh.
- Qur'an sciences.
To contact and inquire: +963 996 373 801 (WhatsApp/Telegram)."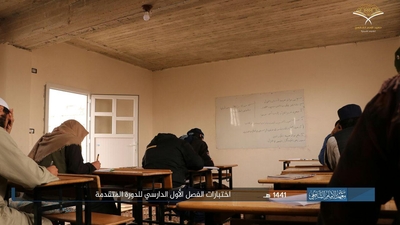 Tests being held in the institute.
I contacted the institute to learn more about it. The institute says that it is independent and likewise the staff present in it but they accept working with all who wish to please God. The mashayakh who teach in the institute are also supposed to be independent, and the majority of them are graduates of the University of Damascus. Among those mashayakh are the likes of Sheikh Abu al-Fatih and Sheikh Abu Ishaq who are renowned as scholars in the wider field of northern Syria. Officially, the institute disavows an organizational connection or receiving of any support from an internal or external party, but will accept aid from charitable individuals.
The institute was initially established more than four years ago in the town of al-Dana in north Idlib countryside. The institute then moved to the town of Sarmada (also in north Idlib countryside). The institute's main activities, as made clear from the advertisement, are teaching Shari'i subjects like 'aqeeda (creed), fiqh (jurisprudence) according to the Shafi'i school, and hadith.