Hay'at Tahrir al-Sham (HTS), the dominant faction in Idlib and its environs, has a public relations department designed to deal with relations with the populace in areas under its control. This public relations administration includes complaints offices, about which an advertisement was recently shared on HTS' online networks.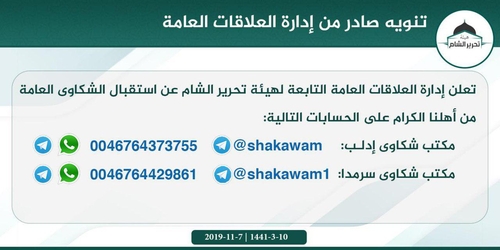 "Notification issued by the Public Relations Administration:
The Public Relations Administration affiliated with Hay'at Tahrir al-Sham announces the receipt of general complaints from our dear people on the following accounts:
Idlib complaints office: @shakawam (Telegram); 0046764373755 (WhatsApp; Telegram)
Sarmada complaints office: @shakawam1 (Telegram); 0046764429861 (WhatsApp; Telegram)
10 Rabi' al-Awal 1441 AH; 7 November 2019 CE."
Taqi al-Din Omar, HTS' contact official, says that the "the office is concerned with tracking any complaint offered against any party in the liberated area." He also provided me the following statement from 'Nader Mustafa', the official of the Central Complaints Committee:
"The complaints office in Hay'at Tahrir al-Sham has been established and affiliated with the Public Relations Administration, and that is to realize direct contact with our people in the liberated area, and with a desire to fulfil rights and redress grievances. And a number of accounts have been specified on the Internet to facilitate contact to guide the people who submit complaints to the correct place to submit them. The newly established office is concerned with looking at referred or incoming complaints, so that they can be assigned or referred according to speciality, and the submitted requests will be pursued with all transparency and responsibility. For the aim of those in charge of the matter is to make available contact with our dear people from those who have complaints against one of the sons of Hay'at Tahrir al-Sham and striving to find a solution to them, for the rights of our people are protected and rendering consideration to them is an obligation upon us, and for the most part and according to the cases that have been resolved previously, the response to those complaints does not need a long time."
-------------------------------------
(Update 13 November 2019 CE: The post has been changed and updated with new statements provided above. For more information, contact the author).