As of the time of writing, Turkey has been bombing parts of the north Syrian border areas that are held by the Syrian Democratic Forces as Turkish president Erdogan has announced the launch of 'Operation Peace Spring,' featuring the participation of the Turkish Armed Forces and the rebel factions under the banner of the Syrian 'National Army.'
To hear a rebel perspective on the operations, I interviewed Fadhil Lahmuni, a commander in the Northern Storm Brigade that is based in the Azaz area of north Aleppo countryside. Note that the Northern Storm Brigade is under the leadership of the III Corps of the 'National Army.'
The interview is slightly edited and condensed for clarity. Any parenthetical insertions in square brackets are my own.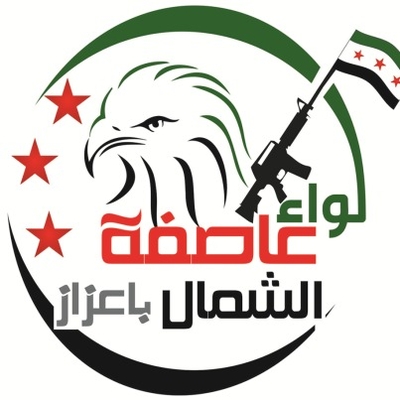 Q: What are the aims of the East Euphrates operations exactly? Will the operations seize all the border areas between Jarabulus and the borders with Iraq?
A: Brother the aim is to liberate Tel Abyad from the SDF.
Q: You mean seizing control of Tel Abyad only?
A: Currently yes: the first stage.
Q: And the second stage?
A: Liberating the countryside of Manbij entirely.
Q: Right, but the Turkish president says that he wants to return some of the refugees to the areas that will be liberated.
A: This is after Manbij town is liberated, God willing.
Q: Will the Northern Storm Brigade participate in the operations?
A: Yes brother, [we are] participating.
Q: Do you have a message for the SDF in particular and the Kurds generally?
A: The Kurds are our brothers and people. Soon God willing, it [will be realized] that the SDF forces are terrorist.
Q: So you hope that they realize that the SDF is a terrorist force?
A: Yes SDF is terrorism: the SDF forces are the same as the Da'esh [Islamic State] organization.
Q: What do you say in response to the talk that the settling of the refugees in the areas like Manbij after the operations is tantamount to demographic change?
A: What do you mean?
Q: They say for example that settling the refugees who are in Turkey in these areas after the operations is tantamount to demographic change against the Kurds.
A: There is nothing that can be called against the Kurds. Before the rise of the revolution, the criminal Assad regime was against the Sunnis and Kurds. After it the Da'esh organization spread, also against the revolution and the Kurds. And after it the SDF organization, against the Kurds and against the Syrian people.
Q: Are there Kurds in the ranks of the Northern Storm Brigade who will participate in the operations?
A: Yes brother, yes. There is more than one battalion of the Kurdish brothers in the Free Army and the Northern Storm Brigade. There are dozens of Kurdish members in the brigade.
Q: Do you expect that the operations will be difficult?
A: An operation that will give rise to a battle at its most intense but we are people of the land, not the SDF.