Hurras al-Din ('Guardians of the Religion') has come to be the main al-Qa'ida loyalist group in Syria, serving (for example) as an alternative platform for those who rejected Hay'at Tahrir al-Sham's breaking of ties with al-Qa'ida.
However, Hurras al-Din itself has also had its own internal problems. The most notable case was in summer of this year amid a dispute about participating in operations alongside factions seen as working for the interests of Turkey.
Now, a statement has just been released by a group that calls itself Ansar al-Haq ('Supporters of Truth Group'). The statement announces the group's separation from Hurras al-Din, citing its failure to meet its obligations, in particular in the realm of implementing the ruling of God's law. Below is the statement in full with my translation.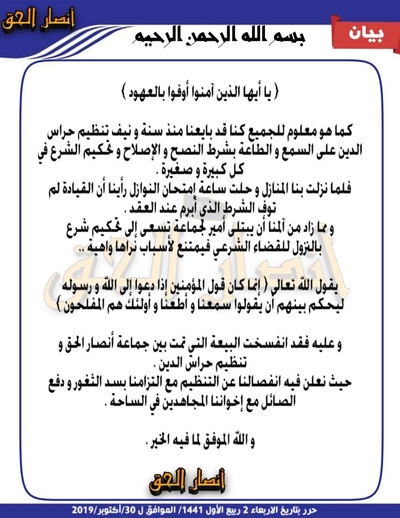 Ansar al-Haq
Statement
In the name of God, the Compassionate, the Merciful
"Oh you who have believed, fulfil the pledges"
As is well-known to all we had pledged allegiance a year and a half ago to the Hurras al-Din organization on the basis of hearing and obeying with the condition of advice, reform and implementing the rule of the law in everything big and small.
So when the manazil came upon us and the hour of the test of the nawazil arrived we saw that the leadership did not fulfil the condition that was ratified on the pact.
And what increased our distress is that an amir for a group striving to implement the rule of law should be tested with coming down to the Shari'i judiciary but he refuses for reasons we consider to be flimsy.
God Almighty says: "The word of the believers, when they are called to God and His Messenger for judgement to be passed among them, is that they say: we have heard and obeyed. And those are the people of success."
And therefore the allegiance pledge that was contracted between Jama'at Ansar al-Haq and Tanzim Hurras al-Din has been annulled.
So we thus announce our separation from the organization while we comply with filling the frontlines and repelling the aggressor along with our mujahideen brothers in the field.
And God is the guarantor of success for that in which there is good.
Ansar al-Haq
Published on Wednesday 2 Rabi' al-Awal 1441 AH corresponding to 30th October 2019 CE.