As noted previously, the smaller 'tribal Hashd' formations in Ninawa province are primarily known by regiment numbers as opposed to larger conventional 'Hashd Sha'abi' groups known by brigade numbers. However, the tribal Hashd formations are also connected to the Hashd Sha'abi Commission.
One of the 'tribal Hashd' formations in Ninawa is the 39th regiment, also called the Maghawir al-Jubur ('Commandos of al-Jubur') and Usud Dijla ('Lions of the Tigris'). The 39th regiment presently operates in the south Mosul region and primarily coordinates operations with the Iraqi army.
On 6 September 2019, I conducted an interview with the 39th regiment's media. Any parenthetical insertions in square brackets are my own.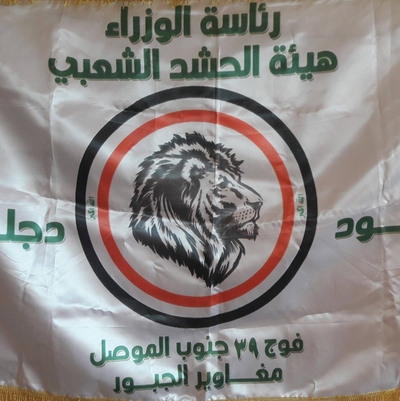 Q: When was the 39th regiment formed?
A: It was formed after the fatwa from the Marja'iya [religious authority].
Q: And in which area was it formed?
A: In the al-Qayyara district area south Mosul.
Q: In which battles has the regiment participated?
A: It participated in the battles to liberate Mosul on the right side [i.e. west Mosul].
Q: And how many martyrs has it offered?
A: Praise be to God there are no martyrs.
Q: Where does the regiment operate currently?
A: Currently in south Mosul.
Q: Are there salaries from the Hashd Sha'abi Commission?
A: Yes we receive from the Commission through the keycard.
Q: Most members of the regiment are from the Jubur tribe?
A: Yes.
Q: And from the al-Qayyara district?
A: Yes, from inside the district and the villages.
Q: Are you affiliated with the Hashd Sha'abi operations command in Ninawa?
A: Yes.
Q: But it seems that most of the coordination is with the divisions of the Iraqi army?
A: Yes we undertake joint obligations with the Iraqi army specifically the 16th Division because it is within the area of responsibility.
Q: Do they give you the name 'tribal Hashd'?
A: Yes most of the Hashds of Ninawa and Anbar are called the tribal Hashds. But currently all the designations have gone.
Q: How is the security and humanitarian situation in south Mosul today?
A: The situation is fine in all of south Mosul.
Q: But there is the problem of the families of the Dawa'esh [Islamic State members] as no one wants their return to the villages and towns right?
A: Regarding the Dawa'esh who are in the camps of al-Jad'a and Hamam al-Alil, their deportation to their towns has begun. As for the Dawa'esh of the south Mosul region currently in the camps, their return to their areas is forbidden.