Serghaya is a locality in Damascus countryside governorate, right next to the border with Lebanon. It lies to the north of al-Zabadani and Madaya. To learn more about the present situation in Serghaya, I conducted an interview on 10 September 2019 with a resident of Serghaya.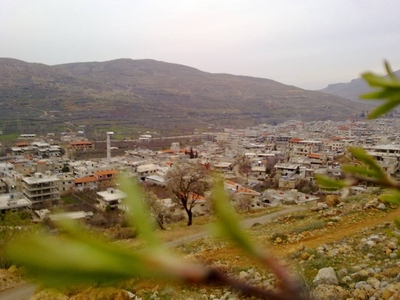 Q: What is the number of inhabitants in Serghaya currently? And what was the number before the crisis?
A: Around 24,000. And before the crisis around 22,000.
Q: Have most of the original inhabitants returned to their homes?
A: No one left so as to return.
Q: How is the services situation generally in the locality? For example for how many hours does the national grid electricity come?
A: If we are going to compare with other areas, excellent. The electricity comes for around 18-20 hours per day.
Q: The water is available from the state network? And how many times does it come each week?
A: Yes of course, and in particular Serghaya's environmental situation is a mountainous region. The water comes on average for four days per week in the summer and in the winter daily.
Q: So the people do not need to buy water from tankers.
A: Not at all.
Q: How are the municipal office services like cleaning?
A: Average.
Q: So for example are there problems of garbage in the locality?
A: Yes there is this thing sometimes in the year but not on a daily basis.
Q: Are there any projects in the locality currently? For example building a new oven or opening of shops?
A: No there are none, because in the first place within the main street for the locality there is no free shop space. And the projects are all more or less from years ago.
Q: What are the main challenges from the realm of services and the humanitarian situation?
A: Matters among us require a little rapprochement among the people, and the people of the land should have their zeal for the common interest and keep away from technicalities and tribalism. These things- praise be to God- are proceeding and especially in the new generations.
Q: May I ask what are the main tribes in the locality?
A: Here there are no tribes but families: al-Shamat, al-Arr, Abd al-Nabi, Sawan, al-Ghadban.
Q: The locality was under the control of the insurgents until 2017?
A: Outwardly speaking only. As for the insurgents they were bound by the words of the notables of the locality, and this thing helped the locality to remain safe, as the notables were always the valve of security and guided the situation with the government forces/the Syrian army.