Suqur al-Sahara' ("The Desert Hawks") was one of the most well-known auxiliary formations on the side of the Syrian government during the war. Led by Muhammad Jaber, Suqur al-Sahara' fought on a large number of fronts and developed a reputation as an 'elite' force.
To learn more about the history of Suqur al-Sahara', I interviewed on 21 July 2019 a former member of the group. The interview is slightly edited and condensed for clarity. Any parenthetical insertions in square brackets are my own.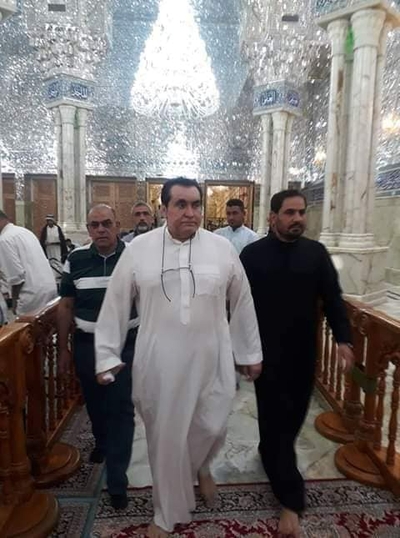 Muhammad Jaber, who led Suqur al-Sahara'.
Q: Can you tell me a little about the origins of the group?
A: Before the formation of Suqur al-Sahara', we were some 15 people. We were operating checkpoints to secure a road from al-Dumayr to the borders with Iraq.
Q: So when was it officially formed and what was the reason for the formation?
A: Officially in 2013. The aim of it: to support the Syrian Arab Army.
Q: In which area it was formed?
A: Latakia.
Q: Were the training and support etc. self-provided?
A: From the beginning the training was at a level that was high, harsh and earnest because in the battle there is no indulgence. There was training for members only because of course any member in need of training cannot reasonably enter the battle without training.
Q: In which battles did Suqur al-Sahara' participate and how many martyrs did it offer approximately?
A: More than 1000 martyrs. It participated in the liberation of Sha'er field twice, Kassab, point 45 [in Latakia], Palmyra twice, and Hama countryside. It also resisted the attack on the academy [in Aleppo] and liberated Aziziya and Manan and Tallat al-Shorta.
Q: Were the arms, salaries etc. at the expense of Muhammad Jaber?
A: We operated in a legal sense and we were under the cover of the state so naturally the state was responsible for us.
Q: So for example the Syrian army gave you weapons?
A: Why are you surprised?
Q: I thought that everything was from the financing of Muhammad Jaber, of course by the agreement of the state. I mean for example Muhammad Jaber was responsible for the salaries, but of course he was working by the agreement of the state. Have you understood me?
A: The salaries, we received them from the ustadh of course.
Q: Did the friends from the Russians or resistance etc. help you in matters of training etc.?
A: No.
Q: Of course the question that suggests itself: what happened to Suqur al-Sahara' in the end? The formation is no longer present on the ground?
A: Simply, the Suqur's mission came to an end.