Douma was previously one of the main insurgent strongholds in the East Ghouta area. The Syrian government regained control of Douma and the rest of East Ghouta in the spring of last year.
What is the present situation in Douma? To learn more, I conducted an interview with a person from Douma on 25 August 2019. The interview is slightly edited and condensed for clarity. Any parenthetical insertions in square brackets are my own.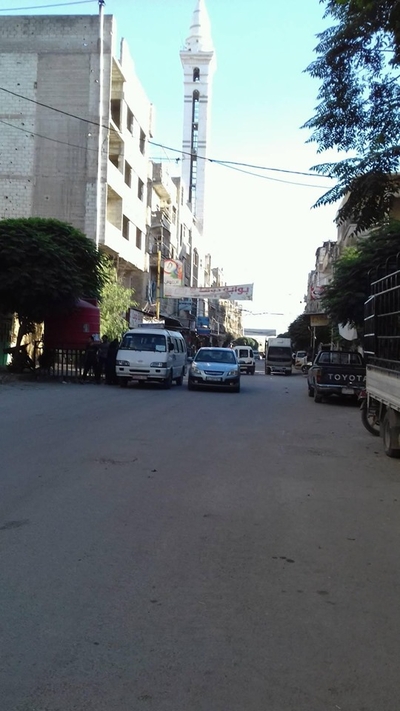 Q: What is the number of inhabitants in Douma right now? And what was the number before the events?
A: Previously 550,000.* Currently 200,000. We are talking about the town without its suburbs.
Q: For how many hours does national grid electricity come? And water is available from the state network?
A: [Regarding electricity], four hours available, two hours cut off. And the water [network] is still in the process of renovation and has not yet become ready.
Q: So the people must buy water from tankers?
A: In every block there is a water well serving it in addition to big storage tanks that the state has put in place at its own expense within the roads. The inhabitants are compelled to buy drinking water if they want water that is not limy.
Q: What are the biggest accomplishments of the town council in terms of projects recently?
A: Frankly and with all neutrality, the council is undertaking huge efforts within the availabe capabilities. It is trying to renovate most of the public facilities, restore electricity to most of the areas in cooperation with the Electricity Ministry, renovate water tanks for them to be used, as well as beginning to build a mini-hospital that serves the town and opening all the roads that were closed with screens reaching a number of metres.
Q: What are the biggest challenges regarding services and the humanitarian situation?
A: The big challenge is the phone lines and Internet, and renovating the destroyed schools.
Q: What is the proportion of destruction in the town approximately?
A: The proportion is approximately 15-20%.
Q: How is the security situation in the town?
A: Stable and calm, but there is intense poverty and the proportion of widows and orphans is high.
Q: And also many of the youth of the town have joined compulsory service in the army?
A: Yes a big proportion currently have joined the ranks of the army and have offered a number of martyrs.
**
------------------------
*(Update 27 August 2019): The interviewee subsequently clarified that the number of inhabitants prior to the civil war was 450,000 and not 550,000 as initially stated in the interview.
**(Update 28 August 2019): Last question and answer omitted for reasons of sensitivity.