The Latakia front has been part of the broader fighting that has occurred in the northwest of Syria. Among those participating on the government side have been fighters of the al-Bustan Association working with the Syrian army's 4th Division. One of those fighters is Ala' Zahr al-Din, with whom I conducted an interview on 18th August 2019. It is slightly edited and condensed for clarity. Parenthetical insertions in square brackets are my own.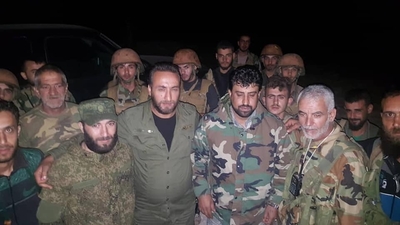 Fighters on assignment with the 4th Division on the Latakia front, including the Iraqi Hayder al-Juburi.
Q: When were you born and from which locality are you? And when did you bear arms for the first time?
A: I was born in 1982: the town of Jaramana. [I have borne arms] since the beginning of the crisis in Syria: 2011.
Q: How many times have you been wounded?
A: I have been wounded 4 times: I was wounded in al-Qaboun, East Ghouta, Darayya and lastly in Deraa.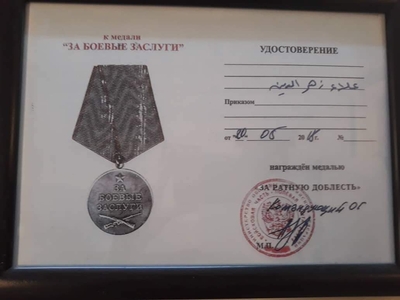 Commendation to Ala' Zahr al-Din presented by the Russians.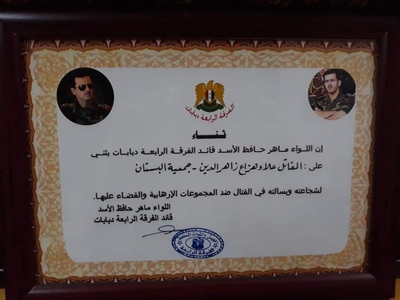 Commendation to Ala' Zahr al-Din presented by the 4th Division commander Maher al-Assad.
Q: Where are you fighting right now?
A: Currently in the mountains of Latakia countryside, with the 4th Division. An assignment in Latakia countryside with the 4th Division. I am from the first formation for the al-Bustan Association in Syria.
Q: Yes, so you are with Dir' al-Watan, but the assignment currently is with the 4th [Division] in Latakia.
A: Yes, Liwa Dir' al-Watan: assignment with the 4th Division.
Q: Who was responsible for your training?
A: I was in the days of military [service] a trainer in the army. I did not need training.
Q: How do you assess the current situation in Syria today? I mean the course of the battles in Idlib and its environs.
A: The battles currently are at the highest level. The morale of the Syrian soldier is high. There is clear advance for the army, and big collapses in the ranks of the insurgents. God willing, victory is coming by the zeal of these men from the Syrian Arab Army and the auxiliary forces for it.