Readers may remember that I have tracked the situation in Beit Jann in Damascus countryside for some time. The locality is located in the Mt. Hermon area near the border with Lebanon and the occupied Syrian Golan. I wrote about Beit Jann in May 2018 to report on the situation in the area in the months following the reconciliation agreement struck at the beginning of that year.
To revisit the situation in Beit Jann, I interviewed a resident there whose identity will be kept anonymous for security reasons. This interview was conducted on 9 July 2019 and is edited and condensed for clarity. Any parenthetical insertions in square brackets are my own.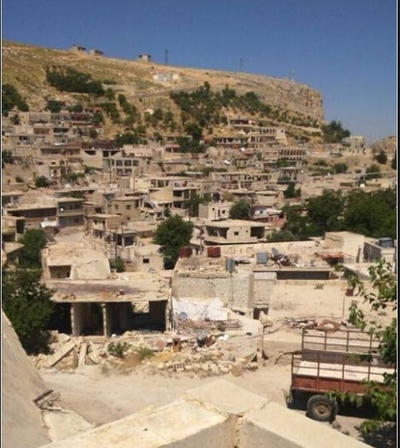 Q: How is the situation in Beit Jann generally?
A: Generally calm.
Q: Is there national grid electricity in Beit Jann currently?
A: There is electricity. It comes for 4 hours and is cut off for 2.
Q: Yes this is the normal system currently. Rationing of 2 hours [cut off] in exchange for coming for 4 hours.
A: Yes.
Q: Is water available currently?
A: Yes there is water because we have springs.
Q: So water is from the state network?
A: Yes. We have waterfalls and springs and the state cannot cut it off.
Q: Yes. So the water is always available. So you need not buy from tanks.
A: Yes. Thanks be to God.
Q: Praise be to God. How are the municipal services? Are there any projects recently?
A: No matters remain as they are.
Q: Yes okay. But there are no building projects for example? Financed by the inhabitants of the area?
A: No.
Q: There is talk that Hezbollah has recruited some of the youth in the area. Is this true?
A: No, there is nothing of this phenomenon.
Q: The Hermon Regiment is still present?
A: Yes, still present.
Q: And the regiment is still affiliated with the al-Bustan Association?
A: Yes.
Q: What is its role in the area exactly? Is it responsible for all the checkpoints?
A: The regiment no longer has checkpoints. Youth have remained. They have given them a delay of a year for the army.
Q: I see. Yes, I heard that the 4th Division is pressuring members of the regiment to join the army?
A: Yes, true.
Q: What does the Hermon Regiment do on the ground if it no longer has checkpoints?
A: Nothing. Bu they have taken youth and they have stopped [work] now, so they should have their affairs concluded and all the youth should be for the government.
Q: So some of the youth from the regiment have joined the regular army?
A: Yes. Regarding building and projects. Just the leadership is the one constructing and building houses.
Q: Meaning the leadership of the regiment?
A: Yes.