Saraya al-Khorasani is the 18th brigade of the Hashd Sha'abi Commission. On 30 April 2019 I interviewed Hussein al-Zaidi, a Saraya al-Khorasani fighter originally from the Bani Zaid area of the al-Shatra district of Dhi Qar province. Born in 1994, he joined Saraya al-Khorasani in 2016 and was self-employed prior to joining the group. Below is the interview, which is slightly edited for clarity. Any parenthetical insertions in square brackets are my own.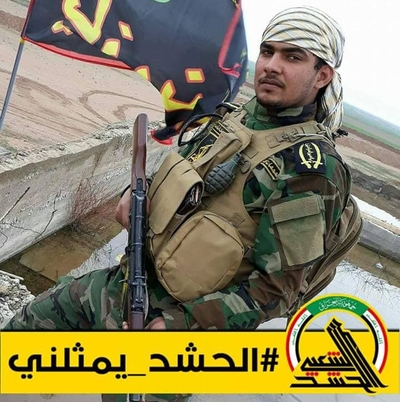 Q: Before Saraya al-Khorasani were you in another formation?
A: No.
Q: For what reasons did you join the Saraya?
A: For jihad of course: for jihad for the homeland and the holy sites.
Q: In which areas did you fight? And were you exposed to wounds?
A: In Diyala, Hamrin, Mosul and now in al-Qa'im. No, praise to be God, no wounds.
Q: Praise be to God. What was the fiercest battle you remember?
A: Hamrin, because of the rugged terrain, mountains and hills.
Q: Yes true. And what currently what is your role in al-Qa'im exactly?
A: Fighter.
Q: Yes. But how is the situation there currently?
A: Praise be to God, [we] are in control of the situation. There are infiltrations and sleeper cells but [we] catch them.
Q: Yes. Have you participated in any operations in Syria?
A: No, I have not participated.
Q: How many days are you present in al-Qa'im and how many days do you take as leave permit in the home?
A: 15 [days] by 15 [days].
Q: And you receive a salary from the Hashd Sha'abi Commission?
A: Yes I receive.
Q: Were any of your companions martyred during the battles?
A: Yes. All who have defended the homeland are brothers to me. And all martyrs who have sacrificed their lives for the homeland are my brothers because the homeland is the father.
Q: True. May I ask why you chose to join Saraya al-Khorasani and not another formation?
A: Saraya al-Khorasani is a jihadi organization that has many stances and a brave leadership. And most of its fighters are mujahideen against the American occupation and the buried Ba'ath Party.
Q: Yes. Also your marja'iya [religious authority of reference] is Imam al-Khaman'ei (may God protect him)?
A: My marja'iya is Iraq, and my murji' is Sayyid Ali al-Sistani (may God protect him), and Imam al-Khamane'i (may God protect him) has love and respect from the depth of my heart.
Q: In addition to west Anbar is Saraya al-Khorasani fighting in another region currently?
A: Yes, we have a sector in Diyala: meaning a camp in Diyala.