Editor's introduction (Aymenn Jawad Al-Tamimi):
As the Syrian government and its allies hold a decisive military advantage over their rivals in the insurgency, discussion about how to bring about a 'political transition' increasingly hinges on issues like reconstruction and sanctions. One line of reasoning behind the imposition of harsher sanctions on Syria (and on Syria's ally Iran- something intertwined with the Trump administration's 'maximum pressure' campaign against Iran) is that these sanctions will create internal pressure against the Syrian government in the form of popular resentment.
The most obvious effects of recent measures- embodied in U.S. sanctions against Iran and threats of sanctions against "parties involved in petroleum shipments to Syria"- have been severe gas and fuel shortages inside Syria.
These increasingly harsh measures are unlikely to bring about 'political transition.' Instead, they breed resentment against the U.S. and feed perceptions of an 'economic siege/war' being imposed on Syria. This does not mean people inside Syria consider the government to be blameless in their current living difficulties. Rather, the point is that the perception of an American hand in the recent round of sufferings is not merely confined to firm supporters of the government.
The guest contribution I present below is from Umm Elias who is from the Yarmouk Basin village of Koaiya (also spelt Koayia) in the province of Deraa in southern Syria. I encouraged her to write in general and she has also written for other outlets on what life was like under the Islamic State and the current security situation in her area.
In this piece she talks about the fuel crises and perception of an economic siege imposed on Syria. To be sure, regarding prices of goods, Deraa saw its own local issues on account of visits by Jordanians to the area for shopping purposes after the opening of the Naseeb crossing . Nonetheless, as in other parts of Syria, the impact of fuel and gas crises has been sharp, sparking a sense of grievance against the U.S.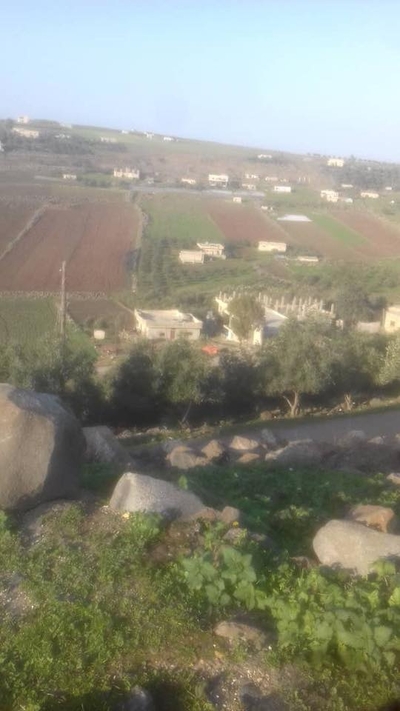 Koaiya
-----------------------------------------------------
The Economic Siege on Syria
By Umm Elias
In the West there is often talk about bringing about a 'political transition' through the pressure of sanctions. In reality though, it is the ordinary Syrian citizen who is suffering most from these sanctions.
We are living through a harsh economic siege and price increases and shortages of goods as Syria has come to rely in significant part on imported goods.
Take gas for example: after the Syrian government regained control over my area it used to distribute every twenty days or so a gas canister for every family at the state price of 3000 Syrian pounds. 'Free gas'- that is, what is not distributed by the government- would be sold at a price of 5000 Syrian pounds. Now though, distributions of gas come at intervals of more than a month each time for every time, and the free gas has risen to a price of 8000 Syrian pounds.
As for fuels, the Syrian government used to distribute smart cards for every car owner or service taxi owner at a value of 30 liters everyday at the state price per liter of 200 Syrian pounds for diesel and 250 Syrian pounds for gasoline. Now the allocations of fuels according to this system have been reduced to 20 liters. If you own a car in my area you have to be careful about fuel use as the nearest reliable station for filling up is in Deraa city and you have to wait a long time for your turn to fill up your vehicle. There are more stations nearby in Sahm al-Jowlan and Nawa but there are acute shortages in those stations.
We have noticed the impacts of the crisis on account of the rising cost of service fares. The average citizen or university student for example cannot afford to travel daily with the current transportation costs.
The winter also proved to be harsh. The government distributed rations of mazout fuel for heating for families with each family able to attain 100 liters of fuel, but this quantity was hardly sufficient for the winter. As a result we would rely on wood as well to heat our homes.
Prices of imported goods have risen sharply, whereas prices of vegetables and other kinds of food produced locally (e.g. bread and milk) have remained fairly stable. Local goods in my area did see a brief hike in prices when Jordanians were visiting the Deraa region in large numbers to do shopping but the situation has subsequently improved. For instance, the price of potatoes surged to 400 Syrian pounds per kilo after the Naseeb border crossing was opened. Now the price is around 200 Syrian pounds per kilo. Tomatoes rose in price to 350-400 Syrian pounds per kilo but now the price has lowered to 250 Syrian pounds per kilo.
As for examples of the rises of prices in imported goods: a kilo of sugar currently costs 300 Syrian pounds. Previously it was less than 220 Syrian pounds. Meanwhile, a kilo of tea costs 4500 Syrian pounds. Previously it was 4000 Syrian pounds.
In light of how openly the U.S. talks about imposing sanctions on Syria and exerting 'maximum pressure' on Iran, we hold the U.S. to be responsible for the sufferings caused by this economic siege, which has severely hurt the lives of poor Syrian civilians. The poor person who cannot manage these price hikes cannot secure the basic needs of his household.