The Shi'i localities of Nubl and Zahara' have had a large number of 'martyrs' during the Syrian civil war, both military personnel and civilians. Among the 'martyrs' is one Ibrahim Khalil, who served as a commander in the Hezbollah-affiliated Junud al-Mahdi ("Soldiers of the Mahdi"), which has functioned as an expeditionary force of fighters from Nubl and Zahara'. His nickname was Assad Allah ("Lion of God").
Ibrahim Khalil was from Nubl and was born in 1991-1992. He entered Tishreen University in Latakia in 2009 but then transferred to Aleppo University where he studied chemistry. But in 2012 he abandoned his studies and took up arms to defend his hometown, which had come under siege by the Syrian rebels. Initially he was part of the Popular Committees in Nubl and Zahara' (Arabic: al-Lujan al-Sha'abiya), one of the earliest forms of pro-government auxiliary force organization during the war.
Hezbollah took a keen interest in the villages of Nubl and Zahara', and initially set up an expeditionary force called Junud al-Mahdi (Soldiers of the Mahdi), led by al-Hajj Dhu al-Fiqar from Lebanon. Ibrahim joined this formation in 2012 and we can in fact say that he was among the founders of Junud al-Mahdi. He took part in military training courses organized by Hezbollah, specializing in fire-control and commanding squadrons.
After completing the training courses, Ibrahim returned to Nubl but soon had to participate in operations to defend Aleppo airport from insurgent attacks. With that assignment successfully completed, he participated in operations in al-Rashideen neighbourhood in Aleppo city and al-Buhuth al-'Ilmiya (2013-2014), after which he then went with his contingent to Hama province. But then his mother asked him to come back to Nubl to get married. He entered Nubl via Turkey and got married. But soon afterwards at the request of al-Hajj Dhu al-Fiqar he returned to Aleppo city to participate in operations there, taking his wife with him. He worked with both Iraqi and Lebanese commanders in the area and was an important figure in the 'Islamic Resistance' presence there.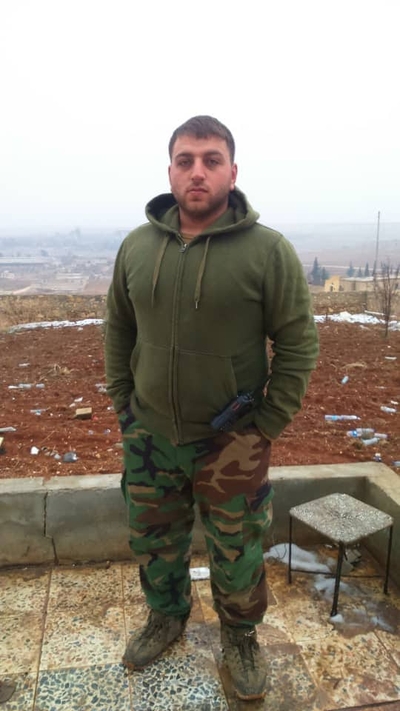 Ibrahim Khalil
In early 2016, Ibrahim and other fighters from Nubl and Zahara' participated in breaking the siege of the two villages. After that operation he became a contingent commander for Junud al-Mahdi stationed in the Sayfat area near Sheikh Najjar (the industrial part of the Aleppo city area). Then after Aleppo city was recaptured in its entirety from the rebels, Ibrahim went to the Palmyra area to participate in the second recapture of the city from the Islamic State. He then participated in the wider eastern campaign against the Islamic State, all the way towards the city of Albukamal in eastern Deir az-Zor province on the border with Iraq.
After the initial recapture of the city from the Islamic State and handing of points to the Syrian army, the city came under attack by the Islamic State again, which took parts of the city, requiring Ibrahim and other personnel of the 'Islamic Resistance' factions to participate in the fighting to push back the Islamic State attack and retake the parts of the city the organization had captured. Ibrahim died during those operations on 20 November 2017 in clashes in the al-Fayha' square area. At the time of his death he was in the ranks of Junud al-Mahdi, still led by al-Hajj Dhu al-Fiqar.

Ibrahim Khalil with al-Hajj Qasim Suleimani.
It should be noted that Ibrahim had asked al-Hajj Qasim Suleimani to allow him and other youth to enter Iraq to visit the shrine of Imam al-Hussein in Karbala', and Qasim promised he would allow that as he sympathised with the tired youth.
Ibrahim has a son and a daughter from his marriage. His son is 3 years old and his daughter is 1 year and 2 months old. Ibrahim has two brothers: one called Ali, the other Hussein. Ali still works with Junud al-Mahdi, while Hussein was in the Popular Committees but died after a sleeve gastrectomy operation.
Finally it is worth noting that Ibrahim and his companions established the Islamic Resistance Martyrs Foundation in Nubl.