For prior parts in this series, see here.
Although there is much discussion of the 'Syrian' character of Hay'at Tahrir al-Sham (HTS) as opposed to the al-Qaeda loyalists, it should be noted that one of HTS' principles is the protection of muhajireen (foreign fighters) and not using them as a bargaining chip to be handed over to 'disbelievers'. There are many muhajireen inside Syria who support HTS and its overall strategy. These muhajireen have now issued a statement in defence of HTS.
Of the various signatories, some are formally affiliated with HTS (e.g Abu al-Fatah al-Farghali, who is of Egyptian origin, and Abu al-Zubeir al-Ghazi). The Turkestan Islamic Party is the largest officially independent entity to have signed the statement and it is a well-known ally of HTS. While its foundation is Uyghur, the group has also recruited muhajireen of other nationalities in addition to Syrians. The Sham al-Islam group is Harakat Sham al-Islam, which was founded by Moroccan ex-Guantanamo detainees. The group eventually became part of Jabhat Ansar al-Din, which joined HTS. However, the component of Jabhat Ansar al-Din led by Dr. Abu Abdullah al-Shami broke off from HTS.
Below is my translation of the statement. Any parenthetical insertions in square brackets are my own.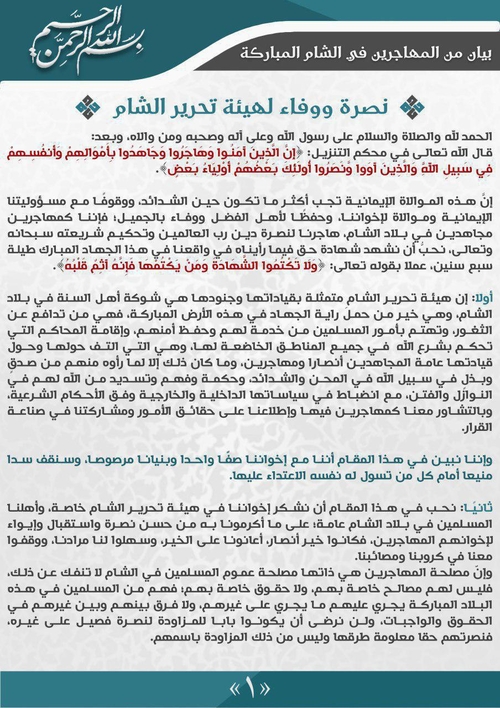 In the name of God, the Compassionate, the Merciful
Statement from the muhajireen in blessed al-Sham
Support and Loyalty to HTS
Praise be to God and prayers and peace be upon the Messenger of God, his family, companions and whoso is loyal to him. As for what follows:
God Almighty has said in the decisive revelation: "Indeed those who have believed and have migrated and waged jihad with their wealth and lives in the path of God and those who have given refuge and supported: those people are allies of each other."
Indeed this loyalty of faith becomes all the more obligatory in times of hardships, and in standing with our responsibility of faith and loyalty to our brothers, and protecting the people of virtue and in fulfilment of what is fine, we- as the muhajireen mujahideen in Bilad al-Sham who migrated to support the religion of the Lord of the Worlds and to implement the ruling of the Exalted and Almighty's Shari'a- would like to bear witness of truth in what we have seen in our reality in this blessed jihad over seven years, implementing the Almighty's words: "And do not conceal the testimony and whoso conceals it, his heart is sinful."
1. HTS represented in its leadership and soldiers is the force of the Ahl al-Sunna [Sunnis] in Bilad al-Sham, and it is the best to have borne the banner of jihad in this blessed land, and the one that defends the frontlines, and is concerned with the affairs of Muslims from serving them and protecting their security, and establishing the courts that rule by God's law in all the areas subjected to them. It is also the one around which and around whose leadership the mass of the mujahideen in ansar [natives] and muhajireen has gathered. And that was solely because of what they have seen from them from truth and exertion in the path of God in tribulations and hardships, as well as wisdom, understanding, and granting of the right path from God to them in troubles and fitnas, with regulation in its internal and external policies according to the Shari'i rulings, and through mutual consultation with us as muhajireen in them and our review of the facts of the matters and our participation in the making of the decision.
And we make clear in this place we our with our brothers in one rank and a structured edifice, and we will stand as a barrier of obstruction before all who take it upon themselves to attack it.
2. In this place we would like to thank our brothers in HTS in particular and our Muslim people in Bilad al-Sham in general, for how they have ennobled us with goodness of support, reception and granting of refuge to their muhajireen brothers, for they have been the best of ansar. They have aided us in good, and facilitated for us our intention, and have stood with us in our fears and calamities.
Indeed the interest of the muhajireen is the same as the interest of the masses of the Muslims in al-Sham and cannot be separated from that. For they have no interests particular to them or rights particular to them, for they are of the Muslims in this blessed land and what comes upon them comes upon others besides them. And there is no difference between them and others besides them in rights and obligations, and we will not be content that they should be a door for auction to support a faction over another besides it, for their support is truly well-known in its ways and there is not from that auction in their name.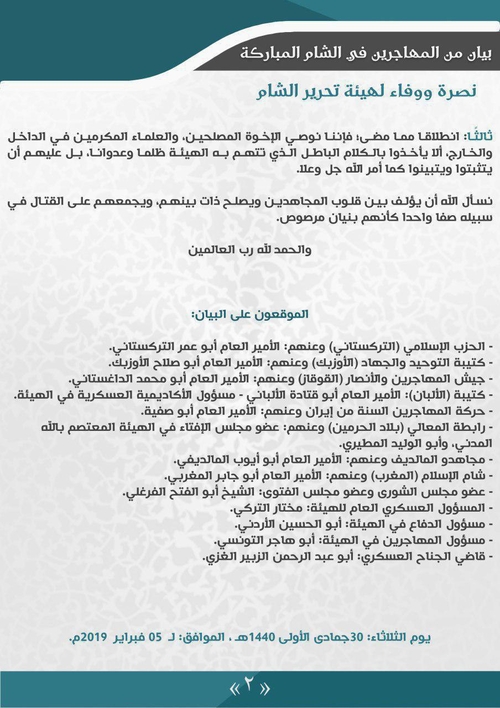 3. On the basis of the preceding, we counsel the brothers who seek to do right and the distinguished 'ulama in the interior and exterior not to take up the false words by which the commission [HTS] is accused in wrongdoing and enmity, but rather they must verify and investigate as God the Almighty and Exalted has commanded.
We ask God to conciliate between the hearts of the mujahideen and conciliate among them, and bring them together to fight in His path as one rank as though they were a structured edifice.
And praise be to God the Lord of the Worlds.
Signatories to the statement:
- The (Turkestan) Islamic Party and on their behalf: the general amir Abu Omar al-Turkestani.
- Katibat al-Tawhid wa al-Jihad (the Uzbeks) and on their behalf: the general amir Abu Salah al-Uzbeki.
- Jaysh al-Muhajireen wa al-Ansar (the Caucasians) and on their behalf: the general amir Abu Muhammad al-Daghestani.
- Katibat al-Alban [Albanians] and the general amir Abu Qatada al-Albani: the military academia official in the commission.
- Harakat al-Muhajireen al-Sunna from Iran and on their behalf: the general amir Abu Safiya.
- Rabitat al-Ma'ali (Bilad al-Haramain) [Saudi Arabia] and on their behalf: member of the fatwa issuing council in the commission al-Mu'atasim Billah al-Madani, and Abu al-Waleed al-Mutairi.
- The Maldivian Mujahideen and on their behalf: the general amir Abu Ayub al-Maldifi
- Sham al-Islam (al-Maghreb) and on their behalf: the general amir Abu Jaber al-Maghrebi
- Member of the Shura council and member of the Fatwa council: Sheikh Abu al-Fatah al-Farghali
- The general military official for the commission: Mukhtar al-Turki
- The defence official in the commission: Abu al-Hussein al-Urduni
- The muhajireen official in the commission: Abu Hajer al-Tunisi
- Judge of the military wing: Abu Abd al-Rahman al-Zubeir al-Ghazi
Tuesday 30 Jumada al-Awal 1440 AH, corresponding to 5 February 2019 CE