Liwa al-Tafuf, formed in August 2016, is the 13th brigade on the registers of the Hashd Sha'abi Commission and is formally affiliated with the Imam Hussein shrine in Karbala'. Below is an interview I conducted with Hussein Ahmad Jum'a of Liwa al-Tafuf. Born in Karbala' in 1995, Hussein was a student prior to the issuing of Sistani's fatwa to defend Iraq in June 2014. In light of the fatwa and the fact that the Islamic State had seized the town of Jurf al-Sakhr that is near Karbala, Hussein quit his studies and became a fighter. He was 17 years old at the time. Prior to joining Liwa al-Tafuf, Hussein was in Liwa Ali al-Akbar, the 11th brigade of the Hashd Sha'abi Commission and also affiliated with the Imam Hussein shrine.
This interview was conducted on 9 February 2019. Any parenthetical insertions in square brackets are my own.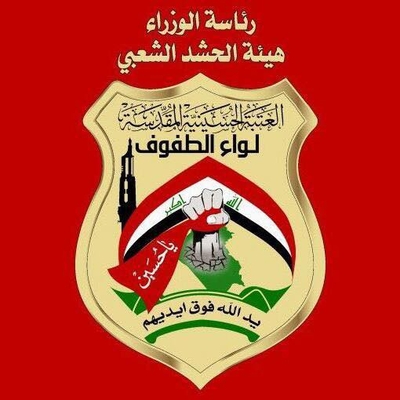 Q: Did you yourself join Liwa al-Tafuf since its establishment?
A: Yes, since the establishment of Liwa al-Tafuf, and before the establishment I was in Liwa Ali al-Akbar.
Q: Yes, but why did you yourself choose Liwa al-Tafuf? Because for example your friends were in Liwa al-Tafuf?
A: They are part of the establishment of Liwa al-Tafuf.
Q: Yes. So you joined with your companions.
A: Yes, with my companions.
Q: In which battles did you participate under Liwa al-Tafuf? And Liwa Ali al-Akbar?
A: [Under Liwa al-Tafuf], all the battles of west Mosul, since the very beginning of the liberation operations all the way to Sinjar and the Iraq-Syria borders towards al-Ba'aj and Tel Safuk. I also participated in the operations to liberate Akashat and al-Qa'im and the areas surrounding them. And in Liwa Ali al-Akbar, I participated in the Jurf al-Nasr battle, and ending with the cleansing of the Makhul mountains.
Q: Yes. Were you wounded in any battles?
A: In Baiji some mortar shrapnel. It was a light wound.
Q: Praise be to God. With the liberation of all of our homeland from Da'esh [Islamic State] what is your work within the brigade [Liwa al-Tafuf] currently?
A: Protecting the brigade commander.
Q: Currently where does brigade operate?
A: Currently the brigade is deployed in the city of al-Ramadi, al-Qa'im, Akashat, the Martyr Abu Ridha al-Baladawi airport: al-Mursinat airport (previously H3).
Q: Yes. So most of the work of the brigade focuses on securing the borders with Syria, right?
A: Correct, points on the border berm [/line].
Q: Approximately how many martyrs has the brigade offered in liberating and defending the homeland? For example were some of your companions martyred in the battles?
A: Karar Razzar al-Fatlawi, and Muhammad Saleh [my companions]. 24 martyrs [in total].
Q: In which battles were your companions martyred?
A: In Hajaf, west Mosul.
Q: Yes. Of course there has been much talk recently about the American presence in our country. What is your personal opinion on this presence? And what is the view of the brigade's personnel generally on this presence?
A: Our point of view is one with our commander the heroic al-Hajj Qasim Muslih. We reject any person not bearing Iraqi nationality, and we reject them. Because, my brother, this is our land and we defend it. And we protect [it] and we destroyed Da'esh. So we have no relation with a coalition. I tell them [the Americans]: leave us alone and leave the situation stable. We are the children of this homeland and we are its enclosure. No one should place his hand on our borders before our bodies fall. al-Hajj Qasim Muslih has 30,000 mujahideen under his command from the number of the reserve force. So we are enough to protect the enclosure of our homeland.
Q: So you mean you reject the presence of any person not bearing Iraqi nationality.
A: Correct, whoever he may be.
Q: Yes. So on this basis you reject an Iranian military presence inside Iraq as well?
A: Where is the Iranian? Currently in our points, leader and planning: all of them are Iraqi mujahideen people. I have not seen an Iranian tank, Hummer or anything else. I am telling you the support and all of it is with the wealth and good of Iraq, except weapons. No one has the priority to this homeland, except its sons and martyrs.
Q: But generally you prefer the Iranians to the Americans on the basis of a coalition?
A: By God I do not prefer any person. They are all foreigners.
Q: True. How are matters of salaries and rights of martyrs going for the fighters of Liwa al-Tafuf? For example do you receive your salary every month without delay?
A: Yes, every month, without ceasing.
-------------------------------------
Update (16 February 2019): Two additional questions and answers at the request of the interviewee:
Q: Who was the first friend you got to know in jihad? And who are the friends who are with you until now?
A: The first friend for me was the heroic martyr Ahmad Fakhr al-Din Zaini. And my close friends currently in jihad: Ali Ja'afar, Mustafa Hadi, Muntadhar Adil, Fadhil Mahmoud.