Jaysh Khalid bin al-Waleed (JKBW) as an entity controlling territory is now a thing of the past, but that does not mean we should cease to be interested in the people who have been involved in that group. With the collapse of JKBW, questions remain over what has become of its members. Of course, many of them were killed in the final military campaign. Some were reportedly transported to the Suwayda' desert in a final surrender deal. Some turned themselves over to the rebel forces who had reconciled with the Syrian government, assisting them in the campaign against JKBW. Meanwhile, at least one member of JKBW that I know of- Naser Alsonna- returned to his hometown of al-Rafeed, only to be arrested subsequently and taken in for questioning by the Syrian government on account of his involvement in JKBW.
To be sure though, the case of Abu Ahmad al-Shari'i ("Abu Ahmad the Shari'i") is primarily of historical interest, since he died back in late June 2017 in a strike that killed the JKBW amir Abu Hashim al-Rifa'i and other officials in the organization. Abu Ahmad al-Shari'i's real name was Nadeem al-Mousa. He may have been born in around 1981 and was from the Quneitra village of al-Nasiriya (though some claim the village lies within the western boundaries of Deraa province). The village is inhabited by the al-Wahban branch of the al-Nu'aim tribe. Nadeem's father currently resides in the Gulf area, having lived there since before the time of the Syrian civil war.
Prior to the civil war, Nadeem worked as a teacher and was a preacher of sermons in the mosques, and thus he had the appellation of sheikh. Following the outbreak of the civil war, he was arrested by the Syrian government in Deraa in December 2011 or so and was held until around November 2012.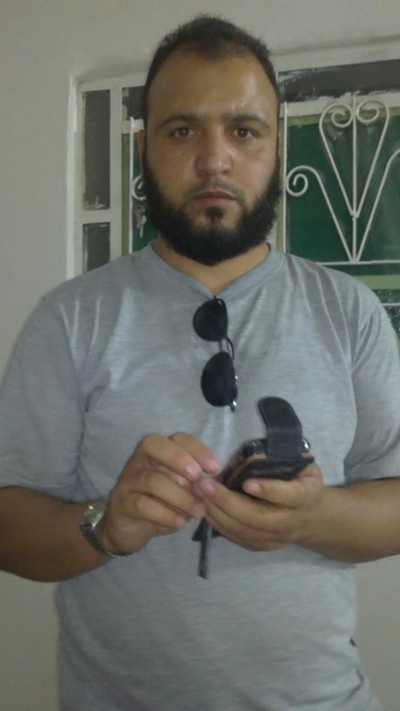 Photo of Nadeem al-Mousa (undated, but definitely pre-2012).
Following his release, Nadeem initially became involved with the local rebel faction Liwa al-Sabteen, apparently serving as a kind of administrator and religious authority figure. A former rebel from the al-Rafeed area in Quneitra, however, characterises Nadeem as mentally disturbed and someone disliked for his craving of authority and decision-making. When Liwa al-Sabteen began to fragment by villages, Nadeem remained for a time with a local faction in al-Nasiriya before becoming involved with Jabhat al-Nusra, which was Syria's al-Qa'ida affiliate.
Rather than joining the Saraya al-Jihad/Jaysh al-Jihad faction in Quneitra that became known for being an Islamic State-aligned faction, Nadeem had instead departed to the Yarmouk Basin by the end of 2014, joining Liwa Shuhada' al-Yarmouk and handing over a quantity of weapons, ammunition and money to the group. It is likely that Nadeem knew that Liwa Shuhada' al-Yarmouk was connected to the Islamic State and for this reason he joined the group in the Yarmouk Basin.
That Nadeem was involved in Liwa Shuhada' al-Yarmouk prior to the formation of JKBW is confirmed in a 2015 document that bears the name of Abu Ahmad al-Shari'i as head of the Hisba office. Specifically, the document is a decision ordering for the confiscation of any vehicle smuggling cigarettes in the Yarmouk Basin area. From his time as head of the Hisba office, Nadeem earned another appellation: Abu Ahmad Hisba, a name I documented in a May 2016 paper I wrote on jihadi groups in proximity to Israel's northern border. That paper was published only days before the formation of JKBW.
However, Nadeem was eventually removed from the position of head of the Hisba office, as confirmed by a JKBW document from August 2016 that bears the name of one Abu Obeida as head of the Hisba office- a person from Deir al-Adas in Damascus countryside and originally in Harakat al-Muthanna, which became part of the JKBW merger. Among the reputed reasons for Nadeem's removal is that he was allegedly caught selling back to the rebels weapons that had been stolen from the rebels, pocketing the money from the sales for himself. For a time, Nadeem stayed in his house and was then appointed amir and judge of the grievances office within the judicial system, though he was apparently removed from that position rather quickly on account of personal problems between him and Abu Ali Saraya, who was the overall head of the court. In contrast, Nadeem had good relations with two other leading figures in JKBW: Abu Muhammad Jabab (who also served as head of the Hisba) and Kaarim al-Masri, who was originally from the Yarmouk Basin village of Abidin and served as a military commander in JKBW.
It seems safe to say that by the mid-summer of 2016 or autumn of 2016, Nadeem's function was primarily one of da'wa. That da'wa is mostly unremarkable and is in keeping with the Islamic State's ideology. It appears that Nadeem remained in this da'wa function until his death in June 2017. More generally, the former rebel from the al-Rafeed area says that Nadeem used to try to entice youth to work with him through money, and says that Abu Hamza Tawheed in particular used to work with Nadeem.

Ruling issued by Nadeem on 8 August 2016 regarding democracy (surprise surprise, he rules against it).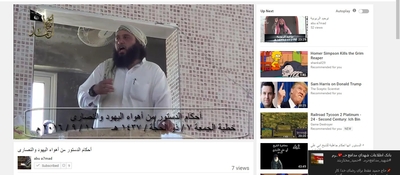 A Friday sermon by Nadeem on 10 September 2016.
I myself had some limited personal interactions with Nadeem. I distinctly remember him liking a post I did on my Facebook page advertising my West Point Combating Terrorism Center publication of Abu al-Faruq al-Masri's internal critique of Islamic State strategy. I also remember that he confirmed to me the claims of the death of JKBW's first amir Abu Hashim in October 2016, and his confirmation to me that Abu Hashim was originally from Idlib.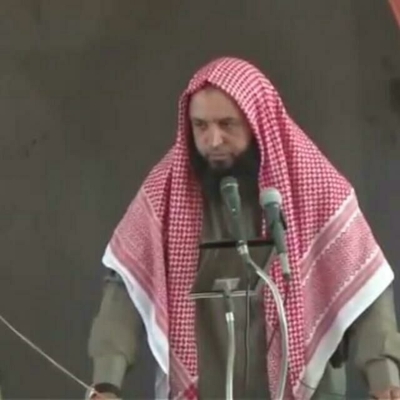 Undated photo of Nadeem.
Nadeem was married twice. His first wife was from the Quneitra region and currently resides there. Apparently, she had initially gone with him to the Yarmouk Basin but later returned to Quneitra. His second wife was from the Yarmouk Basin village of Kawiya. Nadeem also had two brothers, both of whom were working for the interests of the Islamic State-affiliate in the south of Syria. Both of them were eventually killed by the rebels. In particular, one of his brothers- Mustafa- was responsible for purchasing weapons and ammunition and then bringing them into the Yarmouk Basin.