It may be recalled that al-Hajj Azra'il came to limited media attention in 2016 as the leader of the Deir az-Zor formation Lions of the Eternal Leader (Arabic: Usud al-Qa'id al-Khalid), referring to Syria's 'Eternal Leader' Hafez al-Assad. This formation is affiliated with the military intelligence. However, by the end of 2017, al-Hajj Azra'il's tenure as head of the group had come to an end. Disgruntled, al-Hajj Azra'il moved to the Damascus area. Last month, I spoke to him at some length regarding his participation in the war effort on behalf of the Syrian government. His case not only provides some insight into how an individual can change his/her particular affiliations within a broad camp (in this instance, the side of the government and its allies) over time, but also into the war effort in Deir az-Zor when the government-held areas were besieged by the Islamic State.
The real name of al-Hajj Azra'il (aka Abu Haydar) is Hussein Ali al-Ahmad. Prior to the civil war, he worked as a car dealer. He was born in 1972 CE in the Shi'i village of Nubl, which is located in north Aleppo countryside and is closely paired with the neighbouring Shi'i village of al-Zahara'. Some families of note in the area:
- al-Ahmad
- al-Abras
- Sherbo
- Murad
- Qassab
- al-Basha
- Balawi
Like other Shi'i villages in Syria, Nubl and al-Zahara' stood firmly with the government. The two villages came under rebel siege from around mid-2012 until February 2016. Government forces and Iranian-backed groups then broke the siege of Nubl and al-Zahara' as part of the wider campaign to encircle and retake east Aleppo city- something that was accomplished by the end of 2016.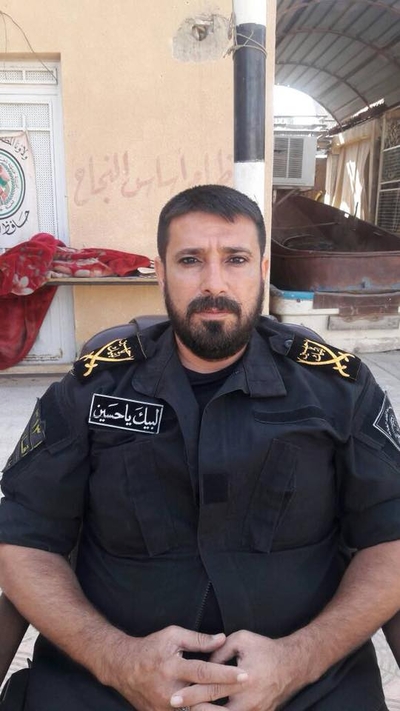 al-Hajj Azra'il. Note the 'Labbayk ya Hussein' insignia.
Nubl and al-Zahara' have suffered a very high level of casualties during the Syrian civil war. For example, Ali al-Abras, originally from the area, wrote in December 2017 (see photo below) that the two villages had "offered more than 1200 resisting martyrs and hundreds of wounded throughout the land of the homeland: the majority of them were martyred in the battles of Aleppo and its four countrysides during the past years to cleanse them from terrorism. The mujahideen of Nubl and al-Zahara' were the first who supported the Syrian Arab Army in Aleppo at the start of 2013, as they came out in hundreds under siege through helicopters to defend Aleppo and its people."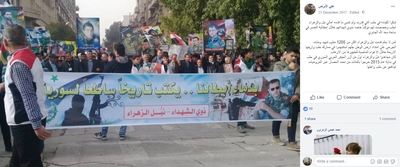 According to al-Hajj Azra'il, he first began operating as a fighter within Nubl itself, setting up a contingent of some 159 fighters under the name of Ghuraba' Nubl. Initially, this faction had no support to carry out training for its members, but then some aid came from the Syrian army. This aid was subsequently lost as the Syrian army withdrew its forces and support from Nubl, and asked al-Hajj Azra'il to dissolve his faction. However, al-Hajj Azra'il rejected this demand and his group came under the disposition of the Qiyadat al-Taklif, a senior local body in the Nubl and al-Zahara' area.
For some context on the Qiyadat al-Taklif, consider the life of one Abbas Hussein al-Ahmad (al-Hajj Abu al-Fadl), born in 1991 in al-Zahara' and killed in February 2016. He was studying in Tishreen University in Latakia when the civil war began. As life became more difficult, he returned to al-Zahara', which then came under rebel siege. On 29 May 2013, the Qiyadat al-Taklif was asked to nominate cultured youths between 18 and 25 years old to go to Lebanon to receive training from Hezbollah, so a helicopter came from Aleppo to Nubl to take 65 youths from al-Zahara' and 85 from Nubl to the al-Assad military academy. al-Hajj Abu al-Fadl was among those youths. al-Hajj Au al-Fadl and his companions were subsequently transferred to Lebanon, where Hezbollah gave them a 'Special Force' training course lasting 55 days in the al-Radwan camp, after which Hezbollah sent them back to Aleppo.
In addition, regarding the Qiyadat al-Taklif, it is notable that in the summer of 2016 the Qiyadat al-Taklif attempted to deal with problems of banditry and mafia-like behaviour at checkpoints on the route between Aleppo and Nubl.
It turned out that al-Hajj Azra'il continued to work under the Qiyadat al-Taklif until he received an offer to be recruited to fight in the Hasakah area, and so he left Nubl for Afrin and then went through Turkey, entering into al-Darbasiya in Hasakah province in early 2014. In Hasakah province, al-Hajj Azra'il came to work as a commander and trainer of assault contingents in the al-Maghawir (The Commandos) formation, with financial support from Hezbollah and manpower support from the Syrian army. The al-Maghawir group is an attested auxiliary formation from Hasakah province, and it was developed during late 2014. The project was eventually deemed to be a failure and was dissolved by the end of May 2016.
For his part, al-Hajj Azra'il moved to Damascus at the beginning of 2015, fighting in both the city and its countryside. Initially, he worked with the National Defence Forces, and then Iran's Islamic Revolutionary Guards Corps, heading subsequently to the Latakia countryside and then Aleppo again, where he worked with Hezbollah. Finally, al-Hajj Azra'il moved to Deir az-Zor with a commission granted by the military intelligence. Initially beginning with just 3 members, al-Hajj Azra'il managed to develop a contingent of 250 fighters: thus, Lions of the Eternal Leader, most of whose fighters are from Deir az-Zor, though some members had been brought in from other places like Hasakah.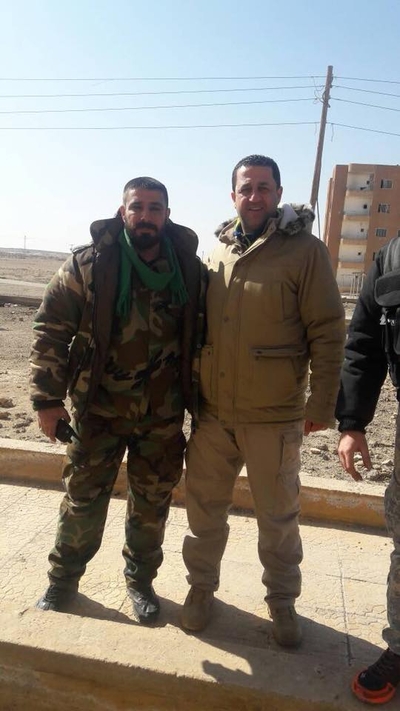 al-Hajj Azra'il with journalist Hussein Mortada, director of the Syria office for Iran's al-Aalem channel.
According to al-Hajj Azra'il, life in Deir az-Zor under the siege was very difficult and corruption was widespread: "We would fight day and night with utmost preparedness. Our food was an egg and three loaves of bread only, there was no alternative and the corruption was very widespread." War profiteers- among them senior military officers- would carry out acts of extortion against the civilian population, as "nothing came in except via helicopter." As such, prices for goods soared. For instance, al-Hajj Azra'il says that a kilogram of tea reached a price of 30,000 Syrian pounds, while a kilogram of potatoes cost 3000 Syrian pounds, subsequently increasing to 5000 Syrian pounds. In greater abundance was "canned food...on account of the ease of transporting it by hovercraft." While al-Hajj Azra'il did agree on the suggestion that Issam Zahr al-Din (the Republican Guard general from Suwayda' who played a key role in the fighting on the government side in Deir az-Zor and was killed in October 2017) was among the 'honourable' ones in Deir az-Zor, he cautioned: "Don't tighten your hand [i.e. don't overplay it]: it is possible to be the most honest of the liars."
Under al-Hajj Azra'il's leadership, the Lions of the Eternal Leader operated according to a system of 3 days of work schedule and 3 days of rest, with the group maintaining an assault force of around 40 troops. In the event of an attack on the group's positions though, all members had to mobilize without days of rest. The monthly salary was only 40000 Syrian pounds.
Following the breaking of the siege of Deir az-Zor in September 2017, the Lions of the Eternal Leader participated in a number of battles, including the opening of the Deir az-Zor airport road and the recapture and clearing out of al-Jafra, in addition to engagements in Mari'iya and Hawija Mari'iya, Hawija Sakr, Hawija Kati', Sater al-Tis'in, Hajiz Alburaslan and al-Rashdiya.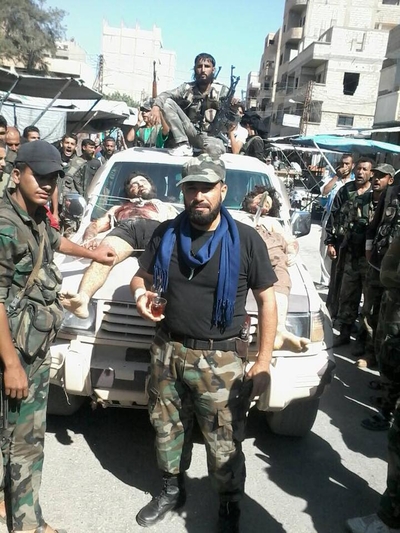 al-Hajj Azra'il posing with bodies of dead Islamic State fighters.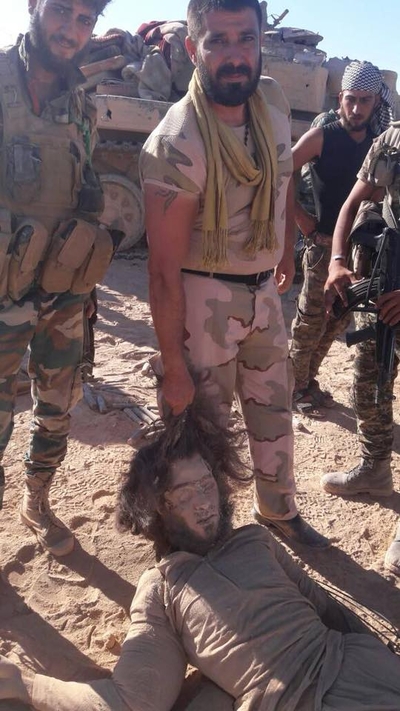 al-Hajj Azra'il posing with the body of a dead Islamic State fighter.
A notable casualty incident for Lions of the Eternal Leader was the series of U.S. airstrikes that hit government forces near Deir az-Zor airport in September 2016, which the U.S. says had been intended to hit Islamic State positions. According to al-Hajj Azra'il, his group lost 8 fighters in that incident, with the total number of 'martyrs' for the government side amounting to 100.
The Lions of the Eternal Leader continues to exist under the leadership of another person, as al-Hajj Azra'il eventually fell out with the Deir az-Zor military leadership. As he put it: "I was demanding the rights of the personnel, and an increase in the salaries and the food. After the road opened, the demands revealed and exposed them, so they decided to overlook me." Of the other Deir az-Zor formations, al-Hajj Azra'il appears to have been closest to Liwa al-Imam Zain al-Abidin, which is presently under the disposition of the military intelligence. The group's former leader- Abu Aboud- is likewise disgruntled but hopes he can set up a new outfit in Deir az-Zor alongside al-Hajj Azra'il with the support of Hezbollah.
--------------------------------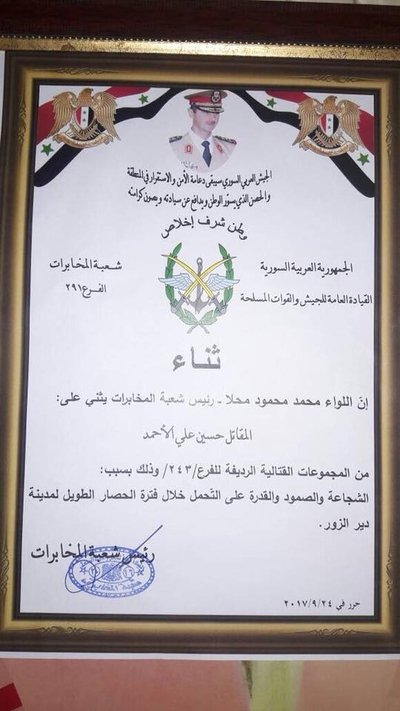 Certificate of commendation issued for al-Hajj Azra'il by the military intelligence:
"The Syrian Arab Army will remain the pillar of security and stability in the region, and the fortress that fences in the homeland, defends its sovereignty, and protects its dignity.
Homeland, Honour, Sincerity.
Syrian Arab Republic
General Command for the Army and Armed Forces
Intelligence Branch [military intelligence]
Branch 291 [admin branch]
Commendation
General Muhammad Mahmoud Mahla- head of the intelligence branch- commends the fighter Hussein Ali al-Ahmad from the auxiliary fighting groups of branch 243 [Deir az-Zor branch] and that is for his courage, steadfastness and ability to bear burdens during the time of the long siege of Deir az-Zor city.
Head of the intelligence branch.
Issued on 24 September 2017."
NB: All photos of al-Hajj Azra'il in this piece as well as photo of certificate have been provided to me by al-Hajj Azra'il himself.