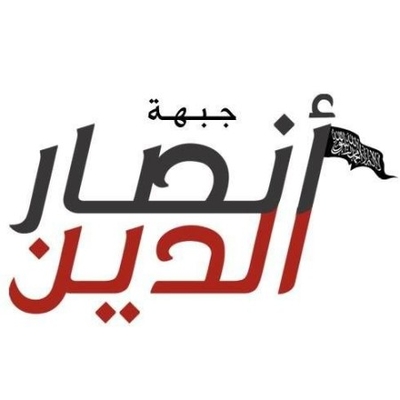 Logo of Jabhat Ansar al-Din
Jabhat Ansar al-Din [Supporters/Partisans of the Religion Front] is a coalition of four groups originally set up in July of this year, comprising Harakat Sham al-Islam, Jaysh al-Muhajireen wa al-Ansar, The Green Battalion and Harakat Fajr al-Sham al-Islamiya. Of these groups, Harakat Sham al-Islam was set up by Moroccan ex-Gitmo detainee Ibrahim bin Shakaran, who died in the Latakia offensive this spring. Jaysh al-Muhajireen wa al-Ansar (JMWA)- under Omar al-Shishani- was once part of what was then the Islamic State State in Iraq and ash-Sham (ISIS), but following Shishani and his followers' break-off to join ISIS in November 2013, the group has effectively become the Caucasus Emirate's wing in Syria. The Green Battalion was an independent group set up in the summer of last year by Saudi fighters who wanted to stay out of the Jabhat al-Nusra-ISIS dispute but has since pledged allegiance to JMWA, while an amir, Shari'a official and some fighters have joined ISIS' successor the Islamic State [IS]. Finally, one should note Harakat Fajr al-Sham al-Islamiya is a native Syrian, primarily Aleppo-based faction.
As per the 'manifesto' of Jabhat Ansar al-Din, the coalition defines itself as 'independent' and striving to implement a state-building project with the rule of Shari'a [Islamic law] in its totality, illustrating a broader trend of jihadi groups forming their own state enterprises as IS and the regime increasingly take up territory. As I have mentioned before, one may ask why the members of this coalition have not simply join Jabhat al-Nusra (which strives for the same goal) in line with the precedent of the one-time Saudi-led independent jihadi group Suqur al-Izz: I submit that this is due to power-politics tension in the sense of not wanting to lose autonomy and be subsumed under Jabhat al-Nusra. The case of Harakat Sham al-Islam in particular seems to be one of an al-Qa'ida front project under Ibrahim bin Shakaran's leadership but a change in direction after his death.
In keeping with the general 'anti-fitna' stance of jihadi groups (including al-Qa'ida in the Islamic Maghreb [AQIM] and al-Qa'ida in the Arabian Peninsula [AQAP]) when it comes to perceived non-Muslim/'apostate' forces fighting a jihadi group (regardless of the power-struggles), Jabhat Ansar al-Din issued a statement denouncing the U.S.-led coalition against IS as part of a war on Islam and Muslims. The statement cites common grievances such as the U.S.-led invasions of Iraq and Afghanistan, the prisons of Begram and Guantánamo with torture therein, "America's support and aid for the Jews in Palestine...the Jews' occupation of the al-Aqsa mosque," crimes committed against Muslims in Burma and the Central African Republic, and supposed U.S. siding with "Arab tyrants" in Libya, Yemen, Egypt and Tunisia.
From these complaints, the statement affirmed that "the target of the Zionist-Crusader-Safavid alliance is Islam and Muslims in general and their mujahideen vanguard in particular." Denouncing anyone who should enter into the alliance as guilty of apostasy, Jabhat Ansar al-Din concluded with a call for Muslim unity against "this oppressive intervention," and asked God to "give victory to the mujahideen in Iraq, ash-Sham and every place."
However, it is notable that unlike AQIM and AQAP (which admittedly tried to avoid the issue of whether al-Qa'ida groups regard IS as a state by simply referring to it as 'the Islamic State' rather than 'the group of the state' [jamaat ad-dawla]), Jabhat Ansar al-Din does not even refer to IS by name in the statement, which fits a wider pattern of non-al-Qa'ida-affiliated jihadi groups in Syria aiming to stay out of the al-Qa'ida-IS dispute as far as possible.
Indeed, to date, with the exception of Jamaat Ansar al-Islam (which hasfought IS in Iraq anyway), none of the global jihadi groups outside of Jabhat al-Nusra- including the few remaining stand-alone ones such as Jaysh Muhammad in Bilad al-Sham and Jund al-Aqsa- is known to have participated in actual fighting against IS. In the case of Jaysh Muhammad in Bilad al-Sham, the refusal to fight against IS sparked tensions with Northern Storm in Azaz and ultimately led to the group's departure from Azaz. Corroborating the anti-fitna record is the fact that some of the components of Jabhat Ansar al-Din prior to the coalition's announcement worked with what was then ISIS in early 2014 inbesieging Kweiris airbase in Aleppo province under the initiative 'And Don't Separate' (along with Jaysh Muhammad in Bilad al-Sham).
Whether Jabhat Ansar al-Din can truly maintain this ostensibly 'trouble free' policy of relations with other jihadis in Syria- particularly IS and Jabhat al-Nusra- remains an open question.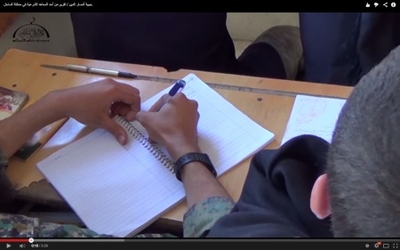 Reflecting Jabhat Ansar al-Din's state-building ambitions, video of a Shari'a institute run by Harakat Sham al-Islam.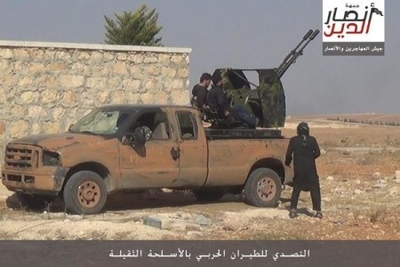 Jabhat Ansar al-Din's JMWA purportedly conducting anti-aircraft operations in Handarat, Aleppo province.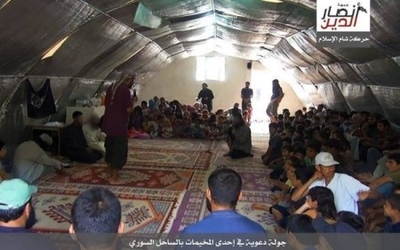 Harakat Sham al-Islam da'wah efforts reportedly in Latakia countryside.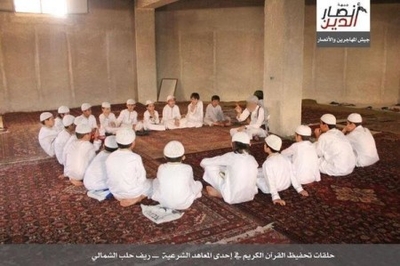 JMWA da'wah efforts for children [Qur'an memorization circles] reportedly in north Aleppo countryside.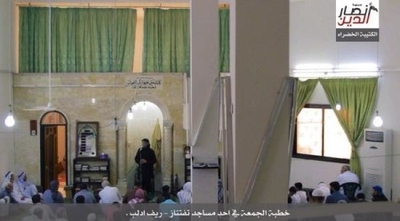 Friday sermon reportedly given by a Green Battalion member in Idlib countryside.
Below is an interview I conducted with a Jabhat Ansar al-Din media activist based in the Aleppo area [Update 30 January 2015: name removed to protect identity], corroborating the points I made above.
Interview
Q: Does Jabhat Ansar al-Din want a Caliphate?
A: Yes. [Among] our goals are the project of an Islamic Caliphate and the rule of God's law in the land.
Q: But why is Jabhat Ansar al-Din independent and does not join Jabhat al-Nusra which also wants a Caliphate?
A: The problem is with them, not with us: we are prepared to work with all upright factions whose goals are like ours. It is not hidden from anyone that the goals of the majority of factions are like our goals.
Q: In your opinion has Jabhat al-Nusra made mistakes on the ground?
A: In my personal opinion indeed we all make mistakes...and perhaps in Jabhat al-Nusra's point of view it is not necessary to establish a Caliphate while the gangs of Assad exist in Syria.
Q: In which areas does Jabhat Ansar al-Din operate?
A: We operate in Aleppo, Idlib, Hama, Homs and Latakia. In Aleppo: al-Ramousa, Sheikh Said, Aziza, Air Intelligence, Handarat, Sayfat, and in the southern countryside: the area of Jabal 'Azzan, al-Wadihi, Mu'amal ad-Difa'. In Idlib: the village of Wadi al-Deif, al-Qarmeed military camp. In Hama: the countryside to the north of the city of Hama. In Homs: the countryside to the north of the city of Homs. In Latakia: Jabal al-Akrad, Jabal al-Turkoman and Kassab.
Q: How are your relations with IS?
A: We have no relation with IS (original: ad-dawla). We don't fight them and they don't fight us. But anyone who says that Jabhat Ansar al-Din is affiliated with IS is lying.