Since the outbreak of the wider infighting between the Islamic State of Iraq and ash-Sham (ISIS) and other rebel groups, some factions have emerged with a definitive anti-fitna stance, insisting on neutrality. The latest case is the Abdullah ibn Zubayr Battalions of Deir az-Zor province, which is instead directing efforts to fighting regime forces in Deir az-Zor city. From a strategic perspective, this approach is offensive: the Jabhat al-Nusra et al. offensive on ISIS in al-Markadah and the ISIS incursions into Deir az-Zor province have so far been little more than a futile waste of manpower and weapons, as the overall stalemate shows. Below is my preliminary translation of their statement.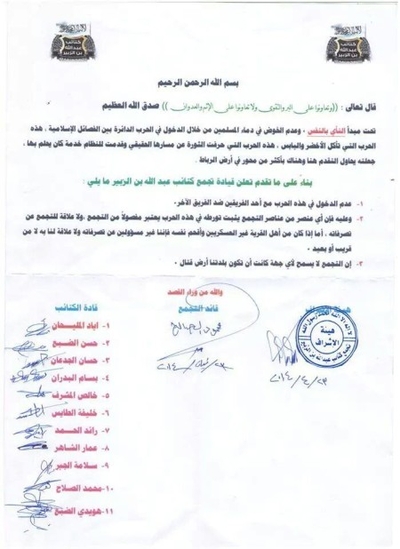 New Abdullah ibn Zubayr Battalions statement rejecting infighting
"On the principle of self-distancing, and the lack of spilling Muslims' blood in intervening in the ongoing war between Islamic factions: this war that has eaten up the everything and everybody, this war that has diverted the revolution from its true goal and has offered a service to the regime it dreamed of, allowing it to attempt to advance here and there at more than one point in Ard al-Rabat [Syria].
Accordingly, the leadership of the Group of Abdullah ibn Zubayr battalions announces the following:
1. No intervention in this war on one side against the other.
2. If any member gets involved in this war, he is considered expelled, and the Group has no link with his behaviour; as for someone from the people of the village (non-military) getting involved, we are not responsible for his behaviour and have no link with him whether near or far.
3. The Group will not allow any side involved to use our land as a battlefield.
Leaders of the battalions:
Ayad al-Malihal
Hassan al-Daba'
Hissan al-Jad'an
Bassam al-Badran
Khalid al-Musharraf
Khalifa al-Tayyas
Raed al-Hammad
Ammar ash-Sha'ar
Salama al-Jabar
Muhammad al-Salah
Huwaidi al-Dabbagh"

Abdullah ibn Zubayr fighters in industrial quarter of Deir az-Zor city